Restoring Backyards and Enhancing Quality
From pool re-plastering and tile replacement to structural pool remodeling, our team of highly skilled professionals are ready complete your pool renovation to industry standards.
Pool Resurfacing
Also commonly referred to as a pebble tech or pebble finish, Stone Scapes is a mixture of plaster and more durable substance such as stone to create a more cosmetically pleasing and dependable pool finish. The Stone Scapes pebble tech finish is the perfect balance between man-made and natural components. Available in a wide variety of colors and textures, Stone Scapes has less long-term cosmetic issues than standard white plaster, backed with a generous 10 year warranty, making it the perfect solution for premium pools.
Eco Finish is the incredible new finishing product that transforms your tired and old steps to like new condition in no time and with a designer finish. This revolutionary finishing product uses a scientifically formulated aquatic coating to provide a chip, peel, crack, and stain resistant seal that traditional gel-coat and paint finishes can't deliver. This type of application is perfect for any pool owner, or prospective owner, who is looking to create a seamless colour palette throughout their entire pool. With the variety of colours available, you can easily find a solution to match your pools liner. If you already have a pool and are looking for a way to bring your steps back to life, this is the perfect option that doesn't require the time and hassle of having to pull out your old steps, and pay for brand new ones.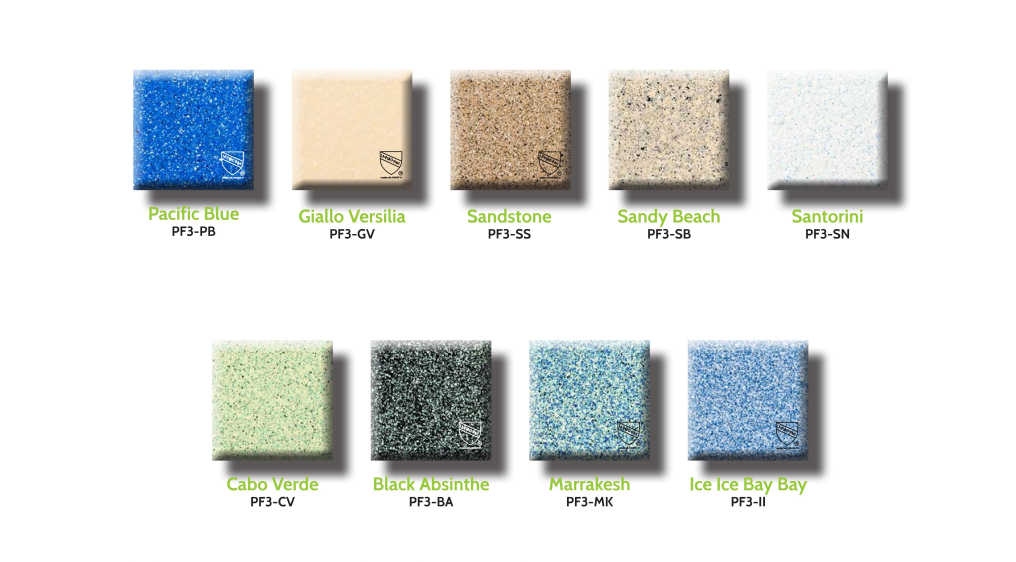 White Plaster:
Traditional white plaster is the most common pool finish. Plaster provides the most economical solution for most pool owners. White plaster has been around as long as people have been building swimming pools and it remains a popular choice in spite of the myriad of choices that have come into the market in recent years. Its simple combination of white cement, white marble aggregate, and water, make for an economical choice that will give you that classic swimming pool look. Standard plaster is the smoothest finish of all the plasters and is considered a "soft" product when compared to other finishes.
Tile, Coping, Retaining Walls & Pavers
Tile:
There are three main types of tile for pool finishes. Glass tile, natural stone tile, and ceramic or porcelain tile. Glass has become the most popular tile choice in recent years. Over time, pool tiles can become cracked tiles, chipped, delaminated or dislodged.

Coping:
Pool coping is the the top of the pool wall and is used to finish the pools edge bringing it flush with the pool deck. Pre-cast concrete with a bull-nose edge has been the standard for the industry. Modern designs are making use of brick coping in a variety of colors and textures. In addition, flagstone is also a very popular choice. If the coping stone has become loose or has crumbling mortar joints, it could be a safety issue, a sure sign to take action.

Retaining Walls:
There are two main types of retaining walls, both with their own method of construction. Masonry walls are constructed with poured concrete or conrete block, faced with stone. Segmental retaining walls are constructed by stacking pre-cast concrete blocks together. Segmental block retaining walls are the most common for many reasons, including being attractive and budget friendly.

Pavers:
Pavers also known in the trade as pool edging or pool edge pavers, is used to cap the pool shell wall preventing water from getting behind the pool shell. Pavers are a great option for pool decks because they are durable, slip resistant and can provide the look of natural stone. They are also resistant to corrosive materials such as salt and chlorine. If not properly installed, pavers can sink or become uneven.